There are test programs inside alsa, such as recording with arecord. This command is used in the following way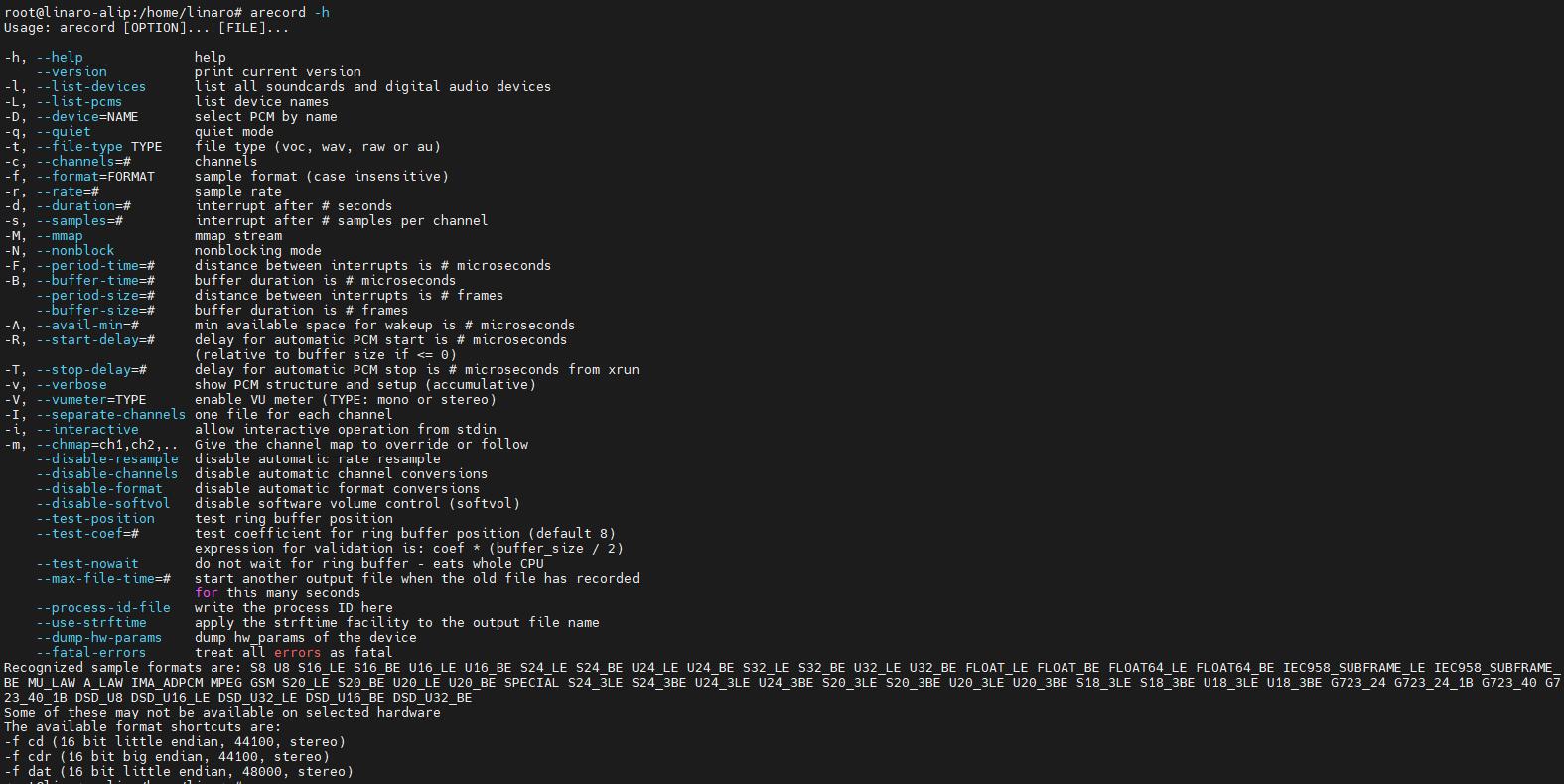 For example, the following command
arecord -D hw:0,0 --period-size=1024 --buffer-size=4096 -r 16000 -c 8 -f s32_le /tmp/r.wav

This command line means, use device 0 of sound card 0 to record, buffer size is 4096, period size is 1024, sample rate is set to 16k, use 8 channels, format is s32_le, output file is /tmp/r.wav
After executing this command, recording will start. The recorded audio format is wav, which is supported by most players.
If you use C language, you need to use the dynamic libraries on the board. These dynamic libraries and header files are needed for cross-compilation. The dynamic libraries and header files on the board can be downloaded at the following link
Then the following is a demo that can record with buffer size 4096, period size 1024, sample rate set to 16k, format S32_LE, and output file as /tmp/output.raw. The note has explained how to use the related API, you can refer to it.
#include <alsa/asoundlib.h>
#include <alsa/pcm.h>
#include <stdio.h>

#define CHANNELS 2
#define FSIZE 2 * CHANNELS

#define SOUND_CARD_DEVICE "hw:0,0"
int main()
{
    int fd;
    int ret = 0;

    char output_filename[] = "/tmp/output.raw";

    // Create an output file
    fd = open(output_filename, O_WRONLY | O_CREAT, 0777);
    if (fd < -1) {
        printf("open file:%s fail.\n", output_filename);
        exit(1);
    }

    snd_pcm_t *handle;
    // Turn on a sound card, where the second parameter is the sound card number, which can be viewed with the cat /proc/asound/cards command
    // The third parameter specifies which way to open, here CAPTURE is used
    ret = snd_pcm_open(&handle, SOUND_CARD_DEVICE, SND_PCM_STREAM_CAPTURE, 0);
    if (ret < 0) {
        printf("snd_pcm_open %s fail %d\n", SOUND_CARD_DEVICE, ret);
        exit(1);
    }

    // Initialize the snd_pcm_hw_params_t structure type parameter
    snd_pcm_hw_params_t *params;

    snd_pcm_hw_params_malloc(&params);
    ret = snd_pcm_hw_params_any(handle, params);
    if (ret < 0) {
        printf("snd_pcm_hw_params_any %s fail %d \n", SOUND_CARD_DEVICE, ret);
        exit(1);
    }

    // Set multiplexed data output mode
    // SND_PCM_ACCESS_RW_INTERLEAVED Interleaved mode means that the data of the left and right channels are crossed in each period
    // SND_PCM_ACCESS_RW_NONINTERLEAVED Non-interleaved mode
    ret = snd_pcm_hw_params_set_access(handle, params, SND_PCM_ACCESS_RW_INTERLEAVED);
    if (ret < 0) {
        printf("snd_pcm_hw_params_set_access %s fail %d \n",SOUND_CARD_DEVICE, ret);
        exit(1);
    }

    // Set the sampling format, that is, the arrangement of the data in the buf
    // SND_PCM_FORMAT_S16_LE 16-bit small end
    // SND_PCM_FORMAT_S16_BE 16-bit big end
    // SND_PCM_FORMAT_S32_LE 32-bit small end
    // SND_PCM_FORMAT_S32_BE 32-bit big end
    ret = snd_pcm_hw_params_set_format(handle, params, SND_PCM_FORMAT_S32_LE);
    if (ret < 0) {
        printf("snd_pcm_hw_params_set_format %s fail %d \n",SOUND_CARD_DEVICE, ret);
        exit(1);
    }

    // Set the number of sound channels
    ret = snd_pcm_hw_params_set_channels(handle, params, CHANNELS);
    if (ret < 0) {
        printf("snd_pcm_hw_params_set_channels %s fail %d \n",SOUND_CARD_DEVICE, ret);
        exit(1);
    }

    unsigned int val = 48000;
    int dir;
    // Set the sampling rate
    ret = snd_pcm_hw_params_set_rate_near(handle, params, &val, &dir);
    if (ret < 0) {
        printf("snd_pcm_hw_params_set_rate_near %s %d HZ fail %d \n", SOUND_CARD_DEVICE, val, ret);
        exit(1);
    }

    // There are two ways to set the buffer, either by size or by time
#if 0
    // Set buffer time and cycle time
    buffer_time = 50000;//us
    period_time = 26315;

    ret = snd_pcm_hw_params_set_buffer_time_near(handle, params, &buffer_time, 0);
    if (ret < 0) {
        printf("snd_pcm_hw_params_set_buffer_time_near %s %d fail %d \n", SOUND_CARD_DEVICE, buffer_time, ret);
        exit(1);
    }
    
    ret = snd_pcm_hw_params_set_period_time_near(handle, params, &period_time, 0);
    if (ret < 0) {
        printf("snd_pcm_hw_params_set_period_time_near %s %d fail %d \n", SOUND_CARD_DEVICE, period_time, ret);
        exit(1);
    }
#else
    snd_pcm_uframes_t buffer_size = 4096;
    snd_pcm_uframes_t period_size = 1024;

    ret = snd_pcm_hw_params_set_period_size_near(handle, params, &period_size, &dir);
    if (ret < 0) {
        printf("snd_pcm_hw_params_set_period_size_near %s %d fail %d \n", SOUND_CARD_DEVICE, period_size, ret);
        exit(1);
    }

    ret = snd_pcm_hw_params_set_buffer_size_near(handle, params, &buffer_size);
    if (ret < 0) {
        printf("snd_pcm_hw_params_set_buffer_size_near %s %d fail %d \n", SOUND_CARD_DEVICE, buffer_size, ret);
        exit(1);
    }

#endif
    // Let these parameters act on the PCM device
    ret = snd_pcm_hw_params(handle, params);
    if (ret < 0) {
        printf("snd_pcm_hw_params %s fail\n",SOUND_CARD_DEVICE);
        exit(1);
    }

    // Get the real cycle buf size of the current sound card again
    snd_pcm_uframes_t frames;
    snd_pcm_hw_params_get_period_size(params, &frames, &dir);
    printf("period_size:%ld\n", frames);
    int size;
    // 1 frame = channels * sample_size.
    size = frames * FSIZE; /* 2 bytes/sample, 1 channels */
    printf("size:%d\n", size);
    char *buffer;
    buffer = (char *)malloc(size);

    while (1) {
        ret = snd_pcm_readi(handle, buffer, frames);

        if (ret == -EPIPE) {
            // EPIPE means overrun
            fprintf(stderr, "overrun occurred\n");
            ret = snd_pcm_prepare(handle);
            if (ret < 0) {
                printf("Failed to recover form overrun");
                break;
            }
        } else if (ret < 0) {
            fprintf(stderr, "error from read: %s\n", snd_strerror(ret));
            break;
        } else if (ret != (int)frames) {
            // fprintf(stderr, "short read, read %d frames\n", ret);
            usleep(1);
        }

        ret = write(fd, buffer, size);
        if (ret < 0) {
            perror("fail to write to audio file\n");
        }

        fflush(stdout);
    }

    close(fd);
    snd_pcm_drain(handle);
    snd_pcm_close(handle);

    snd_pcm_hw_params_free(params);
    free(buffer);

    return 0;
}


The compile-time command is
aarch64-linux-gcc mic_record.c -L./usr/lib/ -lasound -I./usr/include/ -o mic_record

Note that the compiler should use prebuilts/gcc/linux-x86/aarch64/gcc-buildroot-9.3.0-2020.03-x86_64_aarch64-rockchip-linux-gnu under sdk, so that it is consistent with the alsa library that comes with the board